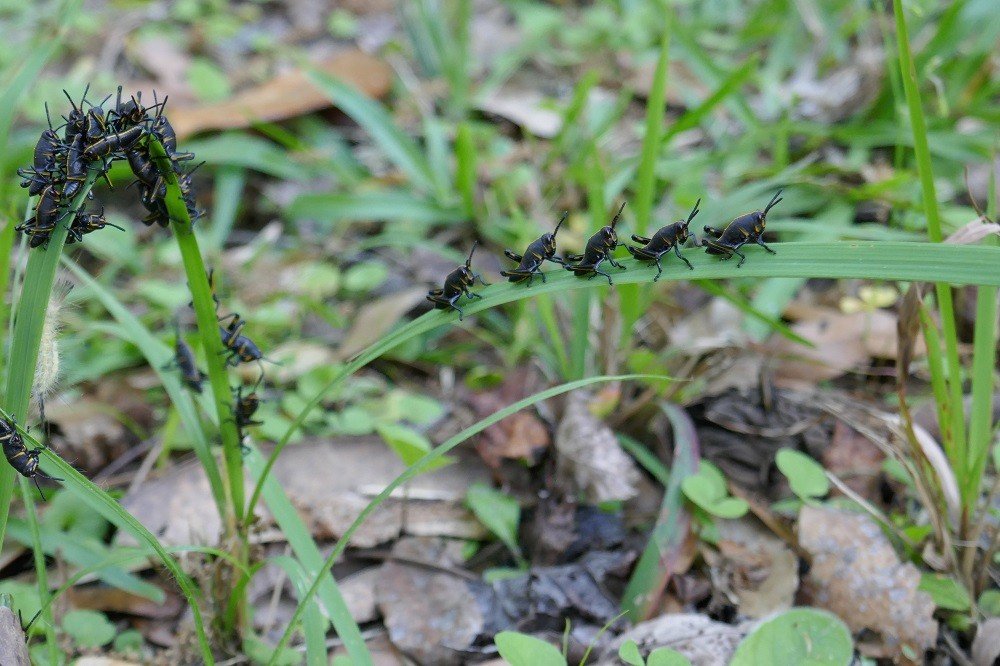 Lubber grasshopper babies emerge in the spring to coincide with all the new songbird babies of spring. Lubber grasshoppers are a very important food source for our songbirds in the springtime.
Newly emerged grasshopper nymphs don't last very long once they hatch out of the ground because of the variety of wildlife that consumes them. If you have some balance in your green space there are lots of hungry mouths waiting for the grasshopper's emergence … from lizards to mama birds.
If forty nymphs emerge then within a few hours there will only be a few. Their emergence never goes unnoticed by hungry wildlife for very long.
Grasshopper nymphs have tiny mouth parts and only eat the outer layer, or new growth, of the plants they find themselves near. If the plants are near and dear to you then I would suggest moving the nymphs to other plants that can be sacrificed. It's not going to be a plague of locusts if you leave them be! It really isn't. By the end of spring you'll be lucky to find more than a few mature lubber grasshoppers … and even they don't eat a lot.
If you're lucky enough to have the biodiversity of grasshoppers AND songbirds in your green space embrace it … nurture it … enjoy it.